Description
DataOrganizer is a personal database for macOS. While professional database software may be expensive and complex, DataOrganizer aims not only to be affordable and easy to use, but perhaps even fun.
What's new in DataOrganizer 5
Main Features:
View options have been added for libraries. (See a library's info popover for more info.):

Previously, a library's cards list (the middle pane) would always display the date modified for each card. In addition to the modification date, the cards list can now be customized to either show each card's creation date or no date at all.
There is now a second appearance style for forms. Titles for simple fields have historically been displayed as placeholders inside a field's text area. Now, forms can optionally display a field's title right above the content area. This style will be familiar to past users of Bento.

An additional feature has been added to the cards list: Hover the cursor over a card in the cards list and a tooltip will show all of the stacks in the library that contain that card.
Relationship fields have also received some improvements:

From a relationship field's info popover, a relationship's inner form can now be set to directly embed all list fields and media collection fields. When chosen, it is no longer necessary to click on a right arrow button to see these fields.
A right arrow button has been added next to the views control. It will always be displayed.
Historically, clicking the right arrow buttons would result in a full card display with a back button (a left arrow) added at the top. These back buttons are now always displayed regardless of the situation.

A "General" pane has been added to the Preferences window. It includes default settings for many of the above additions. Note that these settings are for new creations only. Existing creations retain their previous settings.
Bug Fixes:
Fixed a minor cosmetic issue regarding the list fields.
Fixed some additional bugs related to the relationship field.
Fixed an issue where multi-line comment fields would make use of dark text even when in dark mode.
Fixed another issue regarding multi-line comment fields where the field's text would not be updated when editing the field in the table view.
Fixed yet another multi-line comment field bug where trying to undo a text change could lead to some messy results. This has been fixed in both the form field and the table view's popover.
Features
Imports existing data from Bento 4, BayCard (DataOrganizer's predecessor), CSV (Comma Separated Values), and TSV (Tab Separated Values)
Libraries and stacks can be viewed using three different views: List, Table, and Gallery.

A List View reminiscent of the list views featured in Notes and Mail.
A Table View resembles a spreadsheet and displays each field in a separate column. The Table View also includes a footer that, if applicable, can display the count, minimum, maximum, sum, or average of a field's values.
A Gallery View lists all of the images located in the media fields of the selected library or stack.

Includes eight ready-made templates: Clients, Inventory, Issues, Journal, Membership List, Party Planner, Recipes, and Serial Numbers.
Allows for further organization of your libraries into "sub-groups" using stacks and smart stacks. (A stack is similar to a playlist in iTunes, while a smart stack is criteria-based and is similar to a smart playlist.)
Includes over 20 field types. They consist of:

Basic fields, such as: Text, Multi-Line Comment, Tags, Choice, Date, Duration, URL, Email, Phone Number, Address, Check Box, Number, Currency, and Star Rating.
Four fields that link to macOS's built-in databases: Contacts, Calendar Events, Files, Mail Messages.
A Media List Field that stores photos.
A Geolocation Field that is used to track locations (latitude and longitude).
A Relationship Field allows for one library to link to another library.

Supports Dark Mode.
Minimum System Requirements
DataOrganizer requires macOS 10.13 High Sierra or later.
Pricing
DataOrganizer is a subscription-based app and is available as a free download in the Mac App Store. It can be tried out for 14 days with no restrictions. After that time, DataOrganizer requires either a monthly ($2/mo) or an annual ($20/yr) subscription.
Unlike most subscription-based apps on the App Store, a paid subscription plan does not automatically begin upon completion of a free trial. At the conclusion of a trial, DataOrganizer simply displays a subscription plan chooser.
Videos
Note: These YouTube videos are offsite. You also can find embedded versions of these videos on the videos page.
Screenshots
Note: Although these images are are not displayed on this page at full size, the actual 1x image files have not been scaled and are at full size. As such, they can be drag-and-dropped off this page as needed. Click on the (2x) links for the retina versions.
List View (2x)
Table View (2x)
Gallery View (2x)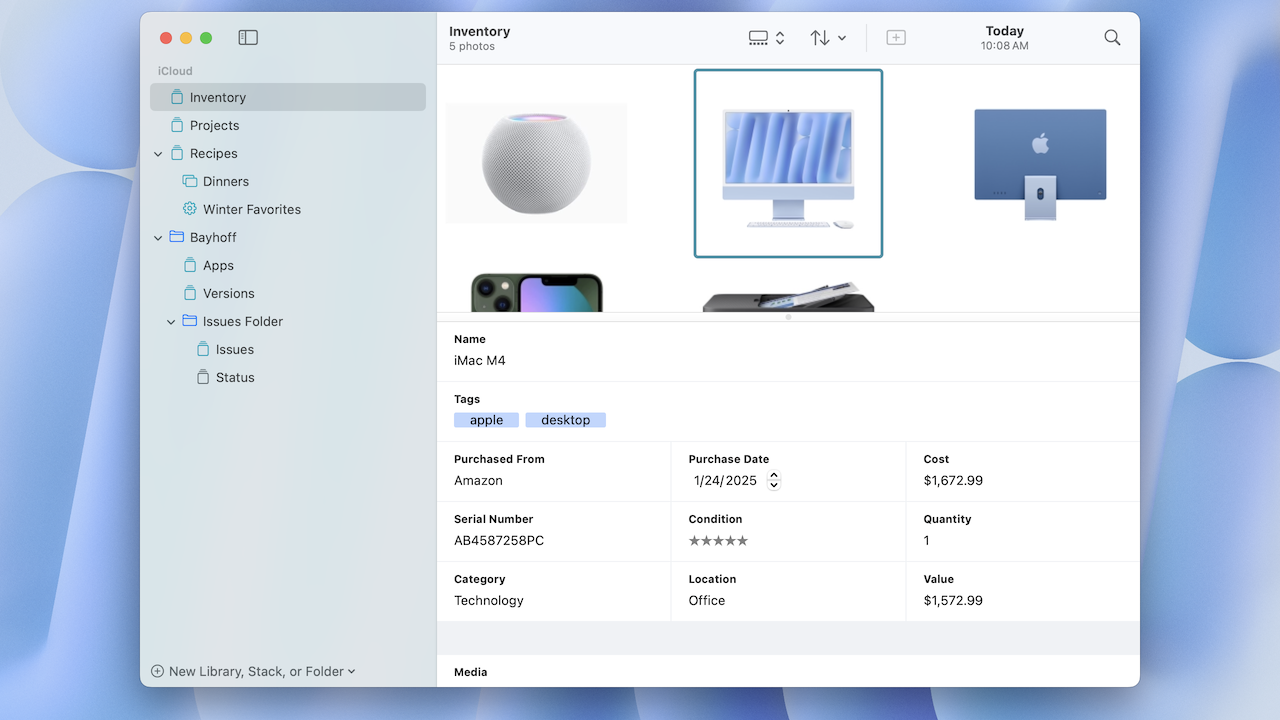 Import Sheet (2x)
Templates Sheet (2x)
App Icon